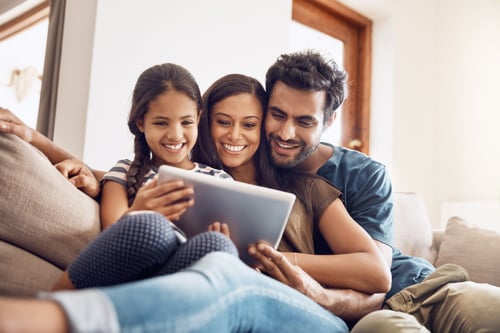 We all love our home Internet network. It connects us to friends and family, recipes we've been dying to try, and so much more. But, with the good comes the bad.
It is important to make sure your kids are protected from harmful content on the web, and keeping the whole family protected from criminals who want to gain access to your valuable personal information.
Finding how to best protect your wireless network can feel complicated with all the technical terms and unfamiliar verbiage that fills search results. There are many ways to secure your network, it is just a matter of finding the ways that work best for you and your lifestyle. So, in an attempt to help simplify, here are six simple steps you can take towards protecting your home network and your family:
Change default information (usernames and passwords) – When networks are installed, routers will come with a name and password on the box. Most of these passwords are a collection of numbers and letters. These passwords are often public knowledge, or can be found by less savory individuals looking to wreak havoc. Resetting them after service is initially established is a great step in keeping your home network secure. Write down the new password and tape it to the router where the original password is to keep it convenient. Apply the same protective measures to devices such as IP cameras, thermostats, and IOT devices, too. These devices are by far the most vulnerable when it comes to default passwords, so be sure to protect them as well!
Create a STRONG password for your network – When it comes to creating passwords, many of us fall into the habit of using the same password for multiple logins. Using passwords that are easy to figure out or repetitive with other accounts can provide a window for hackers to get into your network and steal valuable information that can lead to real loss. There are many password tools out there to help you construct a strong password that will keep you and your priceless information safe. Check out this free and easy one from Norton.
Turn on WPA2 on encrypted networks to keep wireless communication confidential – At this point, almost all routers use WPA2 (Wi-Fi Protected Access 2), as it is the industry security standard. This means the communication between the router and device will be encrypted and authenticated, making it much more difficult for hackers to access.
Turn on a firewall – Most routers have one, and enabling it is one of the simplest ways to protect your home network. Firewalls prevent attackers from being able to scan your network and locate any weak spots they can use to gain access to your information. You can also get an external firewall security system that works in sync with your router to make sure your information and network stay safe and secure.
Turn off your router when nobody is home – What is the point of leaving your router on when you're not home? If nobody will be around to use it, leaving it on only provides access for potential security breaches, and wastes electricity. The best defense is a good offense; so if your house doesn't require 24/7 wireless, consider turning off the router, shutting down any possibility for security problems. Or, even if your house requires 24/7 wireless, if you're going on vacation or away for an extended period, turning off your router for that period is a sure-fire way to keep your network secure.
Stay on top of software updates - All equipment manufacturers have vulnerabilities. Regular software updates will keep your devices safe as vulnerabilities are discovered and fixed. This is a super simple way to actively keep your devices safe and savvy.
Another simple way to protect your home network is with Premier from Cincinnati Bell. Premier enables you to take your Internet experience to the next level with services such as whole-home Wi-Fi, wireless modems, wire repair protection and online security features such as:
Family Rules - allows you to block inappropriate content automatically, scan apps for viruses and approve or block newly downloaded applications, and set online time-limits for your children.

Banking Protection

- added security for financial transactions made while online banking or shopping.

Password Protection

- securely store all your passwords and credit card information using just one master password.

Browsing Protection

- provides you with the best browsing experience by filtering out unwanted and inappropriate website content and automatically blocking malicious IP addresses and unsafe websites.
There is a lot of information out there that can be helpful in learning how to protect your home network. In addition to the tips outlined above, there are many, many more tips and tricks to build up a fortress of security and to keep your family safe.
Additionally, don't forget to keep your devices protected outside of your home too. There is certainly no such thing as being over-protected when it comes to Internet security. Check out how to keep your devices safe from malware and secure from attack while using public Wi-Fi too.
For more information regarding keeping your home network secure, don't forget to download the free "Best Practices Guide" from the United States National Security Agency (NSA). Stay safe and enjoy your network!