What exactly is Fiber Optic Technology?
Fiber optic technology is the future of communications. When we talk about "fiber", envision it as plastic smaller than a human hair or strand of glass in which data can be transmitted through light waves. Each individual stand of fiber is capable of transferring thousands of phone calls and emails simultaneously. Bundle them together into a fiber cable and that capacity skyrockets into the millions. Considering the traditional copper cables found in most homes and businesses are only capable of providing a fraction of this bandwidth, it's not hard to see why everyone is insisting on fiber.
Fiber technology uses a cable, made up of thin strands of glass or plastic fibers, to transmit data modulated onto light waves. Just one strand is a tenth as thick as a human hair and can carry tens of thousands of telephone calls at any given time. That's just one strand. Light moves very fast, enabling speeds up to 1 Gbps on a fiber-optic network which is almost 100x faster than the US broadband average of 11.7 Mbps.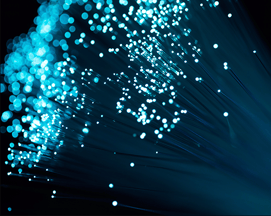 Fiber Optic technology was first developed for doctors in the 1950's. The goal was to create a pipe of some sort that would allow doctors to see the inside of a human body without having to make any sort of incision. Nearly a decade after fiber optics was used in endoscopes, the same technology was used to transmit phone calls faster than ever before. Today, over half a century later, fiber technology is being used to deliver the fastest, most seamless connections imaginable. Not only can fiber be used to transmit emails and phone calls, but it can also be used for lightning fast speed, and buffer-less streaming as well. That means Fiber is keeping businesses connected to stream video conferencing and along with providing all the entertainment they could ever desire and so much more.
So, fiber technology is important but just how important? Very. In fact, Cincinnati Bell has invested nearly a billion dollars in Fioptics over the past decade. Fioptics is the future of communications technology, and offering speeds up to 1 Gbps, it's the Fastest Internet in town. We did this because our customers and businesses need it. What Fioptics really does is connect the community. Fiber provides an unparalleled experience and technology of Internet speed and bandwidth to support our business customers.
As I'm sure you've collected at this point, fiber, is important. It's the future of communications. Cincinnati Bell Business agrees, and is dedicated to continue the expansion of building out our fiber network over the next several years. Fiber in the form of our Fioptics service is now available to approximately 72% of the area and hundreds of thousands of consumers and businesses. So if you don't have fiber available yet, we're working hard to bring it to you. See if your home or business qualifies for Fioptics today! To check your availability, visit our home page and click "Check Availability" in the upper right hand corner.
What does Fiber mean for your business?
Fiber technology future-proofs your business by continuously evolving and supporting more connections and applications.
Fioptics Internet has speeds up to 1 Gbps, ultimately future-proofing your business Internet.
Download and/or stream HD video content instantly and seamlessly, with minimal or no buffering.
Support all of your devices and multiple users. Everyone can use what they want, whenever they need.
Never worrying about losing memory. You can easily upload, download, copy and share documents to and from the cloud and do it all in seconds instead of minutes or hours.
Online shopping for your company, reading digital documents, watching the news, or searching for information on the Internet – web browsing has never been easier, with instant page changes and no buffering.
No more lag and latency – fiber optic technology allows your business to have a stable connection with no buffering.
Small businesses now have access to virtually unlimited bandwidth at an affordable rate, providing growth possibilities for entrepreneurs, startups, and accelerator communities. The fastest Internet in town increases productivity with your cloud-based applications such as Office 365, Salesforce, and Google Apps.
Maintain productivity while working from home. Downloading large files for work? Whether it's large CAD designs or 1,000 page legal document, fiber saves you time and makes you more efficient.
Check out how Fioptics has made a substantial and imperative difference to businesses, families, and community members throughout various organizations around the city.
To learn more about Cincinnati Bell's fiber solution compared to a competitor, please fill out your Business name and Email below to download the comparison sheet.