You've probably heard the phrase, "there's an app for that!"
We, my friends, are fortunate to live during a time where virtually anything can be found quickly online. Looking for the rarest fish in the world? Google it. Wondering where to buy the most expensive dessert in the U.S.? Ask Siri. Want to know when your next Cincinnati Bell bill is due? There is now an app for that!
I am pleased to introduce the new "My Cincinnati Bell" app. This app functions as a personal Cincinnati Bell assistant keeping you satisfied and informed with your Cincinnati Bell services. The goal of the app was to provide Cincinnati Bell users with a one stop shop for all their needs.
Here's how to make the most of the My Cincinnati Bell app.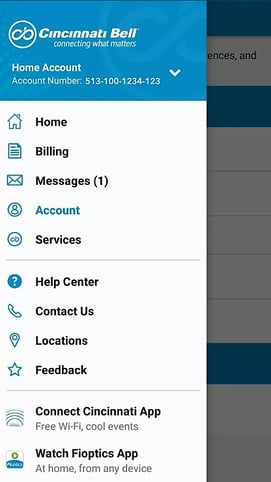 After downloading the app, you will login using your Cincinnati Bell username and password. The app will open to a home page displaying your name, account number, and current monthly dues. If the month has been paid already, there will be a balance of $0 displayed. From the home page, you can open the navigation menu and explore the many features of the app, including:
View your current billing statement and details
Pay your bill
View your billing and payment history
Enroll in Autopay (not having to worry about paying another bill on time each month is a true modern miracle)
Receive push notifications on your phone from Cincinnati Bell regarding any account changes, reminders when your bill is ready and due, special offers, and more
Access the Help Center, organized into services, then furthermore into topics and categories and subcategories for easy navigation
Message with local Cincinnati Bell agents
Find all the most efficient ways to contact Cincinnati Bell
Locate our retail stores
Provide feedback you feel is important for Cincinnati Bell to hear
Links to both the Connect Cincinnati App and Watch Fioptics App
But wait, there's more!
So, now that you have a convenient window into your Cincinnati Bell account at your fingertips, will you be able to navigate it? The answer is a resounding yes. Not only is the app jam-packed with information, it's also very user friendly. Throughout the development of the app top priority was placed on ensuring smooth experience for everyone.
This completely free app can be found in the App store and Google Play. Download it today and get connected to what matters. While you're there, check out our Watch Fioptics app in the App store and Google Play, and Connect Cincinnati app in the App store and Google Play.
What other apps make your life easier?